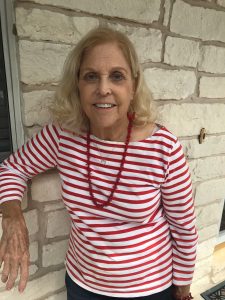 I greet you as the 2020-21 President of Austin Newcomers Club. We begin a unique year for our club due to the Covid-19 virus pandemic. Despite the Covid-19 required precautions, we are pleased that we have so many programs that are active and moving forward.
I am originally from Austin, went to school here through the University of Texas Nursing School. Then I moved and lived many years on the East coast and in the Midwest working as a nurse. After my husband of 30 years passed away, I returned to Austin in 2016. But what a different Austin from 1972! I joined ANC within a month to reacquaint myself with my home town after so many years. Thanks to the many offerings and interest groups, I have developed a wonderful circle of friends and have participated in so many activities.
We are a multilayered volunteer organization with an executive board, standing committees, and dozens of super interest groups. The only social group in Austin older than ANC is the Cattlemen's Association. Our monthly Welcome Mat and weekly email bulletins keep us informed of activities both real and virtual.
I hope you will feel free to join various groups as you look to satisfy your desire to socialize as well as learn new things about Austin and Texas.
Feel free to offer your unique ideas and contribute to the dimension of this active Austin group. You can contact officers and interest group chairs through the Austin Newcomers Club website.
We're glad to meet you. WELCOME HOME!
Pamela Craig
President, Austin Newcomers Club, 2020-2021