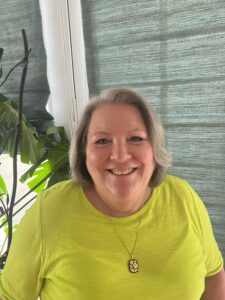 I am honored to have been elected your 2022-2023 President of Austin Newcomers Club.  All the volunteer Board of Directors, Standing Committee and Group Chairs are in place and my thanks go out to the 2021-2022 Board for all their hard work and dedication during a trying time, especially Pamela Craig, who took the helm during difficult circumstances.
If you didn't renew your membership until the club started doing activities again, feel free to join in the fun, as we're back to a full roster of activities.
I am originally from Central PA and met my husband, Mike at Penn State.  After college, we married and moved to central Ohio where we raised our family.  We lived there for 22 years and as soon as the last one left for college, we moved to Pittsburgh, PA.  We lived there for 6 years where I joined a Newcomers Club and then found ourselves moving to Denver, CO.  After 2 years we left Denver and found ourselves following our children who had tech jobs, to Austin, as many of you have told me you have done.
My husband, Mike, is the Chief Data Officer for Texas Mutual Insurance and loves his job.  That leaves me with time to acquaint myself with my new city.  We have lived here since June of 2018, and I joined Newcomers soon after arriving.  I became Historian for the 2019-2020 year and then Treasurer for 2020-2021 to 2021-2022.
Thanks to the many interest groups and monthly luncheons with speakers, I am always learning, always discovering somewhere interesting and making new friends along the way.  We welcome you to Newcomers and to Austin.
I hope you will feel free to join various groups as you look to satisfy your desire to socialize as well as learn new things about Austin and Texas.
Beth Hernandez
President, Austin Newcomers Club, 2022-2023